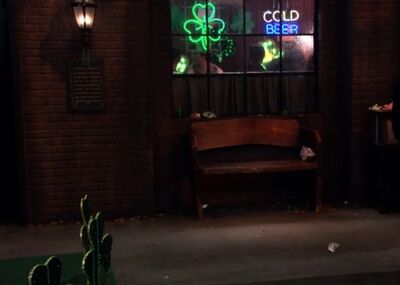 Blarneys Irish Pub is an Irish bar located on 53rd Street, that Max, Caroline, Han, Oleg and Sophie visited on St Patricks Day 2014. The pub is often frequented by a man nickname 'Blarny Bill'. The pubs first & only appearance was in the Season 3 episode And the Kilt Trip.
lThe diner gang visit the pub on St Patricks Day 2014. Oleg sells his humorous irish themed t-shirts at the pub, whilst Han poses for photos with girls in his leprechaun costume. Max & Caroline cash in by charging a girl $20 to take a photo with him. After having to queue up to use the toilets, Caroline suggests that they go to the Palm Court at the Plaza as she thinks it would be better. They later return after Caroline realises that the Plaza wasn't as fun as she first thought, they meet up with Sophie and some firemen.
<gallery type="slideshow" position="center"> Maxcarolineblarneytoiletline.jpg Blarneyoleg.jpg|Oleg talking to Max & Caroline in the pub. Blarneybartoiletline.jpg Blarneybarmaxcarolinedrink.jpg|Max & Caroline at the bar. Blarneyspubexterior.jpg|Exterior of Blarneys
Community content is available under
CC-BY-SA
unless otherwise noted.