The first season of the sitcom as 2 Broke Girls premiered on September 19, 2011 and concluded on May 7, 2012, after 24 episodes.
About the Show
Edit
2 Broke Girls is an American television comedy series coming this fall to CBS. It premiered on Monday, September 19, 2011 at 9:30pm (8:30pm central time) following Two and a Half Men. On September 26, it was move to its regular timeslot, airing at 8:30pm (7:30pm central time) after How I Met Your Mother. It is created by Michael Patrick King of Sex and the City and Whitney Cummings.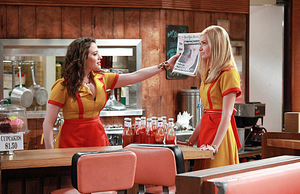 #
Image
Title
Airdate
01
Pilot
September 19, 2011
Max, a hard working waitress, soon finds herself helping out Caroline, a new waitress who was once wealthy, but has been left with nothing after her father's crimes. Max invites Caroline to be her roommate, but their new friendship is put in jeopardy when Max's boyfriend hits on Caroline.
02
And the Break-Up Scene
September 26, 2011
Caroline thinks she's doing Max a favor when she takes it upon herself to facilitate her break-up with Robbie. This leads to an increasing dispute over boundaries that threatens to end their new friendship, however in the end a very drunk Caroline apologizes to Max and they fall asleep together.
03
And Strokes of Goodwill
October 3, 2011
Max takes Caroline thrift shopping. After seeing a shirt stolen from Max's basket worn by another woman, Caroline persists in standing up for Max despite her indifference, and the two try to reconcile their different notions of what girlfriends do and don't do for each other. A struggling street artist, Johnny, catches Max's attention with his similarly sarcastic sense of humor.
04
And the Rich People Problems
October 10, 2011
Max is for once overwhelmed and impressed when she sees how Caroline once lived when the two break into her old townhouse to retrieve her night guard. She insists on staying to enjoy the bath, and begins to realize that despite their very different upbringings Caroline has a lot in common with her. At the diner, Han installs a karaoke machine.
05
And the '90s Horse Party
October 17, 2011
After discovering how many debts Max is dodging, Caroline resolves to clean up her roommate's credit by repaying a student loan. They decide to hold a '90s party at the diner when they discover that the hipsters will pay large sums of money to ride their horse. Things go awry when Caroline's former boyfriend shows up.
06
And the Disappearing Bed
October 24, 2011
Different events test Caroline and Max's ability to do things for themselves. Caroline had solicited Johnny to help her assemble a Murphy bed she got for the apartment, but Max challenges her to do it herself so that she can follow up on a "weird" interaction between herself and Johnny at the diner. Max herself tries to work up the courage to give Peach a business card for the cupcake business.
07
And the Pretty Problem
October 31, 2011
When Caroline's effort to sell cupcakes to a trendy new coffee shop in the neighborhood fails after the owner says they aren't pretty enough, she persuades Max to take a cupcake-decorating class. Max, however, is despondent over her ability to meet the standards of the obnoxious instructors.
08
And Hoarder Culture
November 7, 2011
Max and Caroline take a job cleaning a hoarder's apartment for the extra money and find items they can sell. While out with Johnny spray painting a billboard, Max tries to kiss him but is unsuccessful. Later, on the street, she runs into him with a woman named Cashandra ("Cash"), whom he introduces as his girlfriend.
09
And the Really Petty Cash
November 14, 2011
Johnny apologizes to Max for not telling her about his girlfriend, but Max is despondent nonetheless. Cash then hires Max and Caroline to make cupcakes for an art show at which Johnny's painting of he and Max in a passionate embrace is among the works shown. The two soon realize that Cashandra is trying to make a point to Max and must choose between their money and their dignity
10
And the Very Christmas Thanksgiving
November 21, 2011
Caroline and Max spend Caroline's first broke holiday season working as elves at a department store's Santaland to earn extra money. Max is initially cynical about Christmas, while Caroline, filled with happy childhood memories, is enthusiastic. However, when her hopes of seeing her father are dashed, and Max is unexpectedly promoted to playing Mrs. Claus, their viewpoints change.
11
And the Reality Check
December 5, 2011
With winter approaching, Max persuades Caroline that Chestnut can't live in their backyard anymore. But Caroline balks at her plan to persuade Peach to adopt Chestnut, since it is part of Peach's scheme to get cast in The Real Housewives of TriBeCa.
12
And the Pop-Up Sale
December 12, 2011
After Max and Caroline struggle to light the pilot light of their oven, Caroline tries to raise money for a new one by selling her jewelry, first at the cash for gold store and then at the upscale jewelry stores she once frequented. Encountering hostility from a clerk who remembers Caroline all too well, the pair decide the best option is a pop-up sale in the women's bathroom. Caroline abandons Max there with some wealthy Arab women when some of her former friends recognize her and ask her to lunch, severely testing their friendship.
13
And the Secret Ingredient
January 2, 2012
Max starts a protest when Han triples the price of tampons in the diner's restroom. Caroline discovers the secret ingredient to Max's cupcakes and develops a new obsession: couponing.
14
And the Upstairs Neighbor
January 16, 2012
Max and Caroline are suspicious of the new upstairs neighbor, Sophie (Jennifer Coolidge), who moves in after the old tenant dies. Their attempts to make friends with her backfire, and they fear that she will report them to the landlord as illegal sub-letters.
15
And the Blind Spot
February 16, 2012
Sophie tests Max and Caroline to see if they're adept enough to work as maids for her cleaning business. She is impressed by Max but not Caroline, and suggests privately to Max that Caroline is holding her back and she should let go of her. Max resists the suggestion at first but, when Caroline carelessly ruins a batch of cupcakes, finds herself wondering if Sophie has a point.
16
And the Broken Hearts
February 13, 2012
Caroline and Max find themselves spending Valentine's Day in the E.R. when Earl has a heart attack, after being overwhelmed by Sophie's beauty. While there, Caroline attempts to rekindle an old relationship.
17
And the Kosher Cupcakes
February 20, 2012
Max and Caroline have to make kosher cupcakes for an Orthodox Jewish family's bar mitzvah. Meanwhile, Caroline worries she might be getting sick, since she lacks the resources she used to have to deal with health problems.
18
And the One-Night Stands
February 27, 2012
After a surprise birthday party for Caroline bombs, Max runs into an ex-boyfriend when she accompanies Caroline to visit her father in jail.
19
And the Spring Break
March 19, 2012
Max and Caroline take a spring getaway dog-sitting at a gay couple's posh apartment. A series of parties tempts Caroline with reminders of her former life.
20
And the Drug Money
April 9, 2012
Caroline's old family lawyer stops by to tell her she's being deposed by the prosecution in her father's case. Since he cannot represent her for free, Max convinces Caroline to partake in a clinical drug trial in an effort to raise money for his fee.
21
And the Messy Purse Smackdown
April 16, 2012
After Caroline helps Earl save money on his taxes, Max asks her roommate to help her. Caroline does, but discovers that Max has never filed a tax return. Her efforts to help Max organize her finances put the two at odds, and risk of missing the midnight deadline.
22
And the Big Buttercream Breakthrough
April 30, 2012
Max and Caroline must deliver perfect cupcakes to Peach's socialite friends if Max wants to keep her babysitting job. However, they get ruined after a subway delay, and Max must make some choices about her future.
23
And Martha Stewart Have a Ball (Part 1)
May 7, 2012
After learning Martha Stewart will be attending the Met Ball, they concoct a scheme to get her to try their cupcakes. Max's mood is then affected when Johnny, whose art has become more successful, comes into the diner to say goodbye to her as he's moving to Manhattan and getting married.
24
And Martha Stewart Have a Ball (Part 2)
May 7, 2012
After Sophie helps them get proper evening clothing, the girls are forced to ride Chestnut to the ball when Oleg's car breaks down. They are stymied by the same party planner who rejected them in Part 1, as Caroline is not on the list. Max, however, comes up with a plan to sneak in.
Main Cast
Edit
Recurring Cast
Edit
Guest Stars
Edit
Community content is available under
CC-BY-SA
unless otherwise noted.